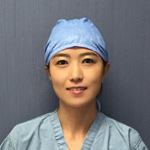 Dr. Celine Sheng graduated from Columbia University College of Dental Medicine in 2004. After completion of her dental degree, she returned back to Houston from New York and did a two year training in General Practice Residence at Michael E. DeBakey Veterans Medical Center from 2004-2006. During her general residency training, she became interested in the field of Periodontics. From 2006-2009, Dr. Sheng then obtained her master degree in Periodontics at the University of Texas Health School of Dentistry at Houston.
Dr. Sheng is a certified diplomate from the American Board of Periodontology.  She is also an active member of the American Academy of Periodontology.
Dr. Sheng specializes in periodontal disease treatment, cosmetic periodontal procedures, and dental implant placement.