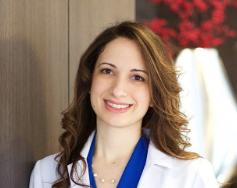 Dr. Tanya Saour has practiced Dentistry and Orthodontics since 2009, when she completed her Doctor of Dental Surgery (DDS) at the University of Detroit Mercy, in Michigan.
Dr Saour continued Post-Graduate education and received both, a Masters (MS) degree, and Certificate in Orthodontics and Dentofacial Orthopedics, in 2011 from the University of Detroit Mercy.
Dr. Saour was introduced to the benefits of orthodontic treatment from a young age, where she was exposed to Cleft Lip and Palate registries and the need for healthcare for children through the UNICEF foundation.
In addition to the reward of helping her community through the practice of Orthodontics, it is also a combination of her greatest passions: Art and Science. Dr Saour practices orthodontics with care and compassion. Working together to create beautiful and healthy smiles with quality treatment in a fun and open atmosphere where she has the privilege to develop friendships with her patients and their families.
Orthodontics is a constantly evolving field, in which Dr Saour is excited to stay up to date. As an active member of the American Association of Orthodontists, the Southwestern Association of Orthodontists, and the International Association of Dentists , she stays on the cutting edge of research and information to better provide diagnosis and treatment options to her patients.
Dr Saour values education that she can provide to her patients and community, and loves to pass on her knowledge of the profession through mentorship, and as a Clinical Assistant Professor at the University of Texas Health Sciences Center, School of Dentistry, in Houston, TX. She is a member of several distinguished honor societies: Omicron Kappa Upsilon Dental Honor Society, Alpha Sigma Nu Jesuit Honor Society, and the Golden Key International Honour Society. She has received several awards and distinctions including the American Association of Orthodontists Award for exceptional interest in Orthodontics in 2009, and more recently, was included in the Leading Physicians of the World in 2017.
Dr Saour grew up across several countries around the world: from down under in Australia, to far north in Canada. It's no wonder that she has a love for travel and exploring new cultures and cuisines. She enjoys staying active, especially with tennis and swimming, and finds relaxation with oil painting, and watching movies like The Sound of Music.